"At ORINOX, I have never perceived any discrimination" Héléna, Administrator 3 at ORINOX for 5 years
As a Responsible Company adhering to the UN Global Compact, ORINOX acts in favor of l'SDG5 (Sustainable Development Goal): Achieve gender equality and empower all women and girls.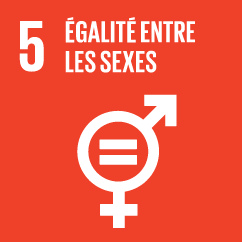 This goal aims to end all forms of discrimination and violence against women and girls worldwide
At ORINOX we are committed to our gender equality commitments. We are taking advantage of this International Women's Day to highlight our Orinox women and the place of women in our society.
In 2022, women represented 14% of hires made, and 22.3% of our workforce.
It is tricky to achieve gender equality in our workforce when the representation of women in the professional and academic world for our professions is not exemplary. Indeed, girls are in the majority in higher education but remain underrepresented in science and technology training.
According to the French Ministry of Higher Education, Research and Innovation, the representation rate of women in engineering schools in France in 2019 was about 28%. This means that of the 200,000 students enrolled in engineering schools, about 56,000 were women.
The representation rate of women varies by engineering track, as an example
Mechanical engineering: 16.6% of all students enrolled in mechanical engineering schools are women.
Civil engineering: 25.6% women out of all students enrolled in civil engineering schools.
"Go girls! These are highly sought-after professions, a rather male sector, but it is time to reverse the trend. And it is precisely these women who will help pave the way for the next generations until we reach, perhaps, parity in these professions Vanessa Phouybanhdyt, HR Manager at ORINOX for the past year and a half
We interviewed 10 female ORINOX employees about the place of women at ORINOX and in the professional world.
Each one says you have to go for it, believe in it, and give yourself the means to succeed. The general installation trade may be represented more by men, however they have the same abilities as they do. And the digitalization of our industries is everyone's business.
«If they really like this sector, they should not hesitate, there are many different jobs, positions and specialties. » Sandrine, designer at ORINOX hire in 2022.
Right from the recruiting process, we make a point of treating every candidate and employee equally, regardless of gender, religion, nationality, age, etc. Sandrine, recently recruited in Aix, tells us that she felt very good from the start, in all the recruiting stages and in her work. Dorra is convinced that, like her experience to date, she will never be discriminated against at ORINOX.
"At ORINOX, I have not seen any discrimination, whether in terms of salary, consideration or promotion. On the contrary, OX implements non-discrimination tools and methods, and regularly ensures that we are not victims of discrimination." Charlotte, Business Manager at ORINOX
Charlotte arrived as a Recruitment Officer almost 3 years ago. Since then, she has moved on to another job and has great prospects for the future.
At ORINOX, we value skills and performance above all. In fact, in 2022, 19% of career promotions involved women, who represent 22.3% of our workforce.
We make sure that women, with the same skills and investment, evolve in the same way as men. Charlotte talks about tools and methods. These are our personnel reviews, also known as HR Committees. They take place every quarter and allow us to study and arbitrate every request made by employees, their managers or the HR department.
"It's rewarding to be a woman at ORINOX, whose business sector is a predominantly male environment, A woman can have the same position, the same skills, the same advancement." Clémence, HR Assistant at ORINOX for over 2 years
Society is moving in the right direction on this issue, Vanessa says that even if there is still discrimination against women in the professional world, it is less and less. The State has set up an indicator to follow the evolution of professional equality linked to gender, called the Professional Equality Index.
Each year, ORINOX publishes the results of its index, which is based on 4 themes :
Pay gap
Increase gap
Employees who received a raise in the year following their return from maternity leave
Number of employees of the underrepresented gender in the top 10 highest earners
We calculate our index at least every quarter to make sure it is moving in the right direction. In 2022, our score was 92/100. Our goal is to reach and exceed 95/100 in 2023!
« Being at ORINOX means being sure to be in a company that values knowledge and talent, without discrimination. » Héléna
If we were to give some advice to future Orinox women it would definitely be to be themselves, get involved, and keep learning.
« Learn to listen; try to learn as much as possible. » Ichrak, AAdministrator who joined us a year and a half ago
When we ask our Orinox women about their wish for social progress for women, they simply answer: equality, consideration, freedom and this everywhere in the world!
Our collaborators have defined the Orinoxienne in 3 adjectives each. What stands out the most is: Competent, Persevering and Involved. But she is also: Responsible, Honest, Passionate, Supportive, Proud, Innovative and above all Inspiring !
« What makes me most proud is to think that from the plans we make, factories are being built. », Océane, Designer for 1 year and a half
Of course we all know inspiring women, Simone Veil, Rosa Parks, Marie Curie, …. But our first inspirations come from the women who are close to us and who show us in our daily lives. Many of the Orinox women say that their heroines are their mothers:
« There are many women who inspire me. They are courageous women, with the passion for knowledge and wisdom and the elegance to confront prejudices against women. I share two examples, one from the past and one from the present: Marie Curie and Ursula von der Leyen. » Héléna.
« She will always be my mother. She was the first working woman I knew. I grew up in a home that encouraged my sisters and I to pursue our education and promising careers. This encouragement was not just through words, but through example. » Dorra
We thank each of them for sharing their experience and some convictions: Dorra, Héléna, Ichrak, Sandrine, Vanessa, Clémence, Océane and Charlotte. They can in turn inspire you. Don't hesitate to apply to join our community of ORINOXians, we look forward to hearing from you !