Have a look at my profil

"Industry is changing with the creation of digital twins. The challenges of digitalizing information and changing organizations are becoming more horizontal and collaborative. PLM and a data-centric approach allow industries to make the right decisions at every stage of industrial projects, from design to construction and from operation to deconstruction."
Career :
Sébastien Laheux is a graduate of the IMERIR engineering school (1998). He started his career at CAP GEMINI in Toulouse where he moved from Web developer to project manager in the Aerospace and Aeronautics field.
He joined the T-Systems group (Deutch télécom) in Nantes in 2001 as Project Manager in the field of Banking, Insurance and Telecom.
In 2006, he joined WYNIWYG as Project Director to set up a Web service center addressing large accounts and the public sector. He then progressively took over the management of the regional entity and then of the Digital offer of the group following the acquisition of Wyniwyg by the TRSB group in 2011.
In 2018, he took over the National management of the subsidiary WYNIWYG renamed then DIGIWIN as part of a restructuring and a strategic direction defined and implemented. Digiwin offers services and consulting in the development and integration of business solutions, collaborative and WEB in AT and fixed price with multidisciplinary teams composed of over 100 employees in France.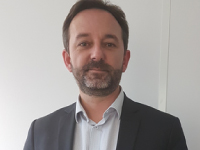 In 2020, he joined Orinox as Director of Operations France. He structured the organization, which now includes more than 150 employees organized into 4 B.U. (AT with 5 agencies in France, CDS with two design offices and a managed services hub, Training and Industry 4.0 software solution provider).
Expertises :
General Management (Restructuring, Budget, Strategy), Management of B.U., and Offers,
Major account sales, short and long cycle fixed price sales, framework market and referencing,
Expertise in digital (Consulting and integration of Web portal solutions and multi-sector business intranet.
Strengths :
Engagement,
Management,
Communication and Negotiation
Weaknesses: No international experience, very limited academic English