Often unknown, forgotten or put at the bottom of many companies' « to-do lists », CSR (Corporate Social Responsibility) has yet embodied, from the outset, a major challenge for Orinox business strategy. As a true token of attractiveness and loyalty, CSR is each and everyone's business.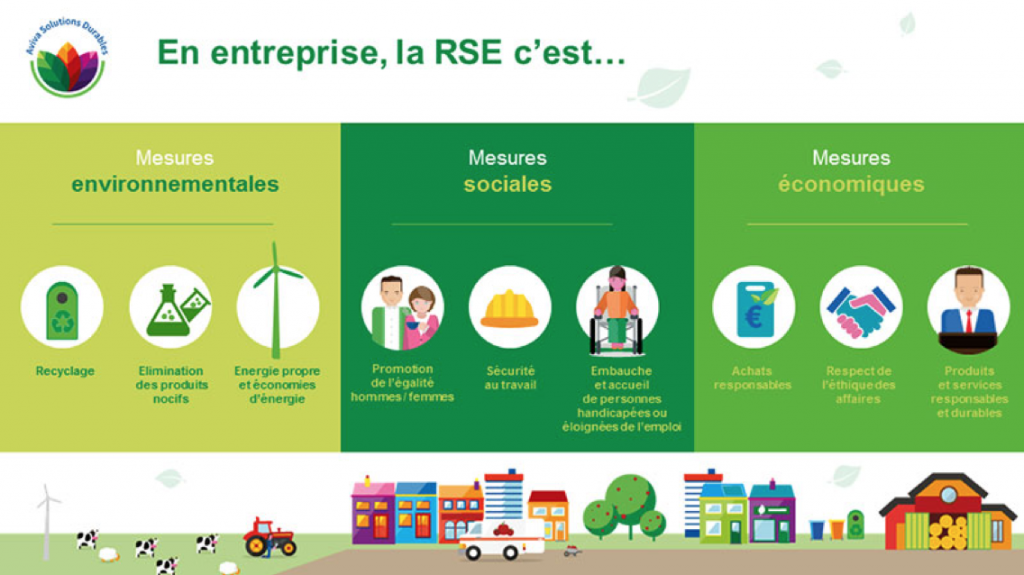 Since 2018, Orinox has joined the Global Compact initiative: it offers companies a simple, universal and willing commitment framework. It is based upon 10 principles concerning the Human Rights respect, international labor standards, the environment and the anti-corruption fight. Emilie Gautier, executive assistant in charge of Orinox CRS projects, clarifies: « it gives us a heading, a course of action. It enables us to spotlight our new operations. »
Multipurpose measures
Orinox tries to restrict its detrimental impact on the environment with quite concrete plans: for example, the gradual replacement of the car fleet by electric vehicles. The use of paper is also questioned: « wage slips and lunch vouchers are now completely dematerialized », Emilie asserts.
But there is more : if the most well-known social involvement focuses on the environment, the social dimension is not left behind. For companies such as Orinox, it is a matter of promoting workplace wellness, among other things. Some opportunities, in particular, are praiseworthy: to work with quality equipments, to have access to online training tools or, for new collaborators, to be offered a Driver's Manual refresher course.
« We often call centres providing care through employment in (known as ESAT) for our green spaces maintenance ». Economically and ethically speaking, Orinox makes sure to work under Human Rights laws and, in order to fight corruption, to work with companies that have signed a charter of honor. As for the respect of labor laws' international standards, Orinox has nothing to be ashamed of since gender equality has been reached within its executive team!
Complimented efforts
Each year, Orinox's partners gauge its actions with an ESG analysis (international acronym standing for Environment, Social, Governance). In other words, an ESG analysis is the evaluation of a company's CSR performance by an investor. This year, Orinox was honored to be mentioned by two of its major shareholders: Arkéa and Siparex. Arkéa highlighted the meaningful budget dedicated to Orinoxians' training. As for Siparex, it rated Orinox a 83/100 score for its emphasis on ESG (namely the second place in the PLC funds investment portfolio).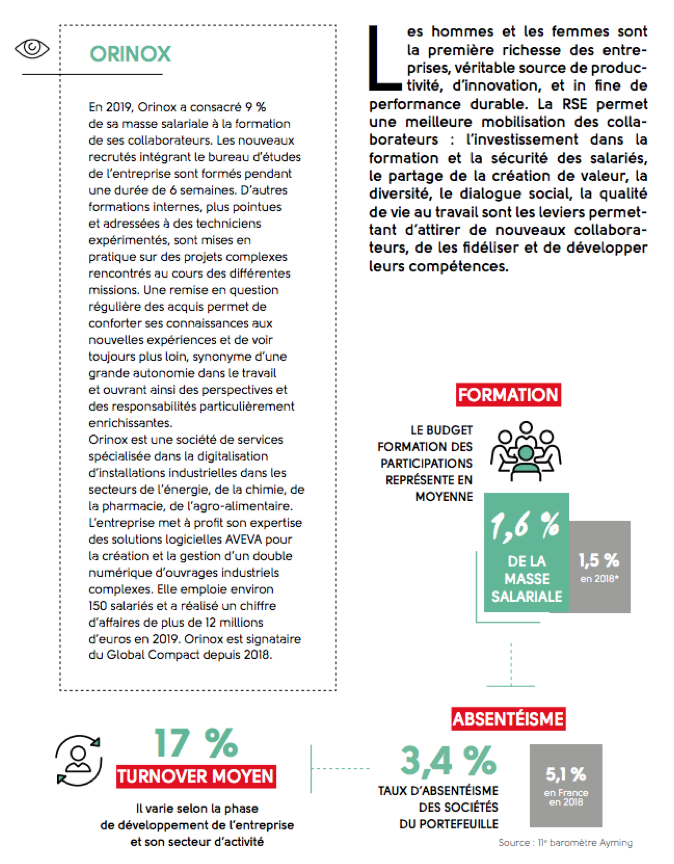 In 2019, Orinox dedicated 9% of its workforce to collaborators' training. The newly-hired who join the design department are trained for 6 weeks. More specialized in-house trainings, intended for experienced technicians, are practically applied on complex projects encountered on various missions. A permanent self-questioning enables to strengthen one's knowledge with new experiences and to reach further beyond, which means the creation of a professional autonomy that leads to particularly enriching perspectives and responsibilities.
Orinox is a service company specialized in the digitalization of industrial structures for the energy, chemical, pharmaceutical and agro-food sectors. The company leverages its expertise of AVEVA software solutions to create and manage a numerical counterpart of complex industrial structures. With approximatively 150 employees, the company achieved a turnover of more than 12 million euros in 2019. Orinox took part in the Global Compact initiative in 2018.
Men and women are the companies' very first wealth: they are the true sources of productivity, innovation and long-term performance. The CSR enables a better rallying of collaborators: training investment, employees safety, value creation sharing, diversity, social dialogue and quality work life are the reasons that attract and retain new collaborators, as well as improving their skills.
Training: Training budget represents about 1,6% of the workforce. 1,5% in 2018.
Absenteeism: 3,4% absenteeism rate of the portfolio companies. 5,1% in 2018.
17% Average turnover. It depends on the company's development stage and its line of business.
A solution for future generations
When one knows that 50% of applicants have already given up the idea of applying in a company because of negative information found online (source: choosemycompany), it is understandable that companies try so hard to get involved in the management of their environmental impact, territories, employees, clients and stakeholders if they wish to convince applicants to join them lastingly.
« For the months to come, the main focus for Orinox is to complete the car fleet replacement. We also have to deal with more local projects: for example, we are going to place a composter on Châteaubriant site in order to limit our waste. We combine a cross-disciplinary approach with a continuous improvement logic » , Emilie ends.
To learn more on this topic :
Go check dossier Orinox COP 2019 (2019 Orinox COP file)as well as les engagements du Global Compact (Global Compact commitments) on our blog. Find more information linked to the CSR sur notre site (on our website).